Christmas Party For Orphans
My Close Encounter With Michael Jackson
by Gwen Carino

MANILA, Philippines – When I was a PR officer at Manila Hotel, I was assigned to head the annual Orphan's Christmas Party where 300 children from different orphanages around Metro Manila were treated to a day of fun and surprises. It was one of the biggest projects on my plate and it was such a challenge to focus on work the day before the big event, knowing Michael Jackson was billeted in the hotel.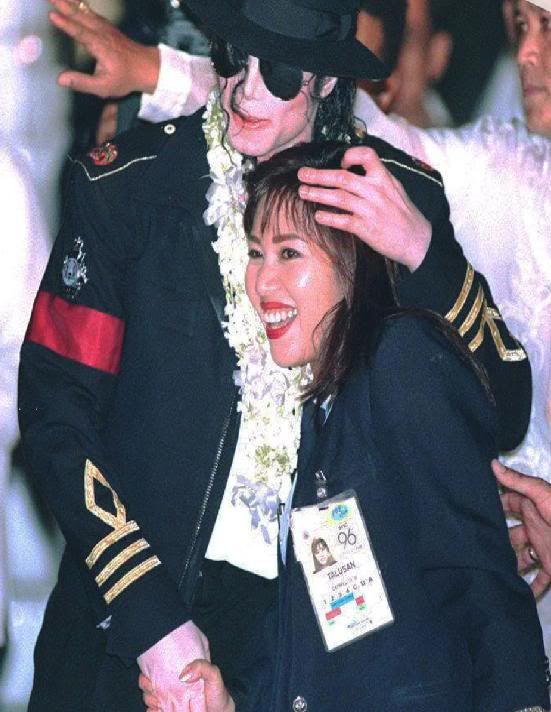 Two nights before, I had been fortunate to be part of his welcome line at the hotel lobby together with the rest of the PR and sales staff but was content enough to see him walk by.

The day before, a guy claiming to be Michael Jackson's aide from Mamarao Productions came to the office. I couldn't recall his name but he looked for the "person in charge" and said his boss had read the announcement about the event in the Dear Guest flyers we had circulated to all the rooms a week before. Michael wanted to know how he could help. His aide went up to the Penthouse and down to the PR office several times after we gave our suggestions.

Michael offered to fill up the 300 loot bags with goodies and toys, candies and chocolates. But after getting close to 50 sponsors, it was actually a problem for us to dispose of everything.

So I thought hard…how can the King of Pop meaningfully join the affair? I couldn't possibly have him be with the kids in the palayok game or the pabitin as he might end up being mobbed! And since the annual event was really all about giving, I mustered all my courage and told the Mamarao guy that the best thing I could think of was for
Michael to literally be present to help distribute the loot bags, sign autographs and pose with the children for photos. "Wow, that may not be easy. You're talking about handing goodie bags to 300 children and I can just imagine the chaos. We'll see, Ms. Jacinto. I'll get back to you," he said.

Lunch break came and it was the most hurried one I ever took in my entire life. It wasn't until after 5 p.m. that Michael's aide came back and said, "Michael is more than happy to do whatever you suggest. How do we go about it tomorrow?"

I wanted to scream. I had to calm myself and regain composure as the Lizzie Maguire in me said, "Get real, get back into focus."

We agreed that Michael would join after the games, musical program and snacks, and at the last part to give out the loot bags. My colleague Annette Africano and boss Dulce Agnir requested for additional security around the garden and the stage area as this was where we decided to distribute the gifts. We made sure the children would form an orderly line.

Then the moment arrived. It was at the Champagne Gardens on Dec. 7, 1996. I was surprised to see him walking towards us, guided by his aide. Michael came up to me as I had to brief him.

"Hi, how are you? Thanks so much for letting me in, I know I'm early 'coz I didn't want to miss the program."

I said, "Are you kidding? Thanks so much for volunteering! Here's what Michael, why don't you just sit here and watch the musical numbers before we get into the gift giving. I will have to tweak the program a bit."

He replied, "Sure, anything you say… (pausing to look at my name tag) Gwen!"

I was stunned at how incredibly sweet and modest he was. And in my mind it was, "Oh my God, this is really happening!"

Amazing how he patiently sat through the whole program. Carol Banawa, then an Ang TV mainstay couldn't believe MJ was watching her perform. She had her red blouse signed by him right after her number. Then followed Stefano Mori's dance number. Later, his back up singers and dancers came up on stage followed by select kids from different orphanages who danced to the beat of Billie Jean. Oh, the smile on Michael's face was just amazing.

Then we announced that Michael will be distributing gifts onstage. I explained to him that there's a loot bag for the younger kids and another for the older ones and he nodded. The thrill and excitement he gave those children was incredibly touching. It was in between the gift bag distribution that I caught a glimpse of MJ, not as a performer but as a person.
It was one in the afternoon. Santa Claus (David Endriga, a friend of fellow PR officer Francis Capistrano) was with us. The heat was scourging and I was worried that Michael felt so hot with his black long-sleeved signature attire and hat.


"Are you alright Michael? We can let you take a break," I asked.

He said, "I'm cool Gwen. Just imagine how Santa feels inside his velvet suit and beard. We'll be fine."

I never heard him complain or say a word about how hot it was or how long the line was. He had the most beautiful manners. He didn't even ask for a drink or a towel to wipe his sweat but one of our banquet staff made sure he got a glass of fresh orange juice.

An hour passed and we were halfway through gift-giving when we noticed that the garden was getting filled up. Suddenly, there were people from media, politicians, officials and hotel guests including those in a wedding reception at the nearby Champagne Room who deserted the newly-weds just to get a glimpse of the King of Pop.

"Oh oh, this isn't supposed to be, I'm so sorry," I said. It's all right, we'll get through it," Michael said smiling.

As we finished giving out the last loot bag to an 11-year-old orphan, a new line of more kids and adults formed. Michael's bodyguard, Wayne, said. "We can leave now."

Michael replied calmly, "We can't leave when there are still people in line. It's Christmas, dude."

I felt my heart beat faster and the hair on my arms and the back of my neck stood up. He wasn't just the most electrifying performer, but the most generous person.

One of the most memorable moments was when a lady came up to him for an autograph. Laughing and holding his tummy, he said "Hey Gwen, you've gotta check this out. He whispered, "It's a blank check. The lady is making me sign on a blank check."

We laughed hard and little did we know that it wasn't even half of the comedy. He later showed me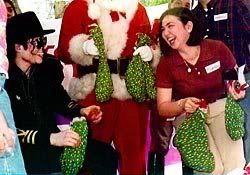 and Wayne other stuff people would use or pick up on the ground when they couldn't find paper for him to sign on. One lady made him sign at the back of her elegant, designer Filipiniana gown. One teenager came up to him holding a dead leaf and another one, a popped balloon. Imagine how our laughter ballooned as well.

It was an amazing, genuine experience. At one point he asked if I was going to catch his History concert and I said "tomorrow night."

"Oh, you'll have a blast!" Michael told me.

At this point he became concerned about the stage as adults outnumbered the kids. His face had nervousness written all over it but he still didn't complain. He tapped the wooden floor with his foot several times making sure it was sturdy enough not to fall apart. "I've experienced the stage collapse and I just want to make sure we're all safe here," he explained.

Half of me wanted the line to finish because we were literally melting and worried about our safety, but half of me didn't, knowing that once the line ended, Michael will leave.

At some point it did end. I managed to get an autograph for my sisters and me before our general manager, Clem Pablo, requested him to sing Give Love on Christmas Day.

Cesar Sarino, one of the hotel's officials, addressed his thank you note to the King of Pop. Then I saw his guards and aides whisking Michael off stage.

I said in my mind, "Oh man, I didn't even have the chance to say goodbye."

Suddenly, I saw Michael return on stage and say, "Thanks so much to you and your team, Gwen. This really means a lot."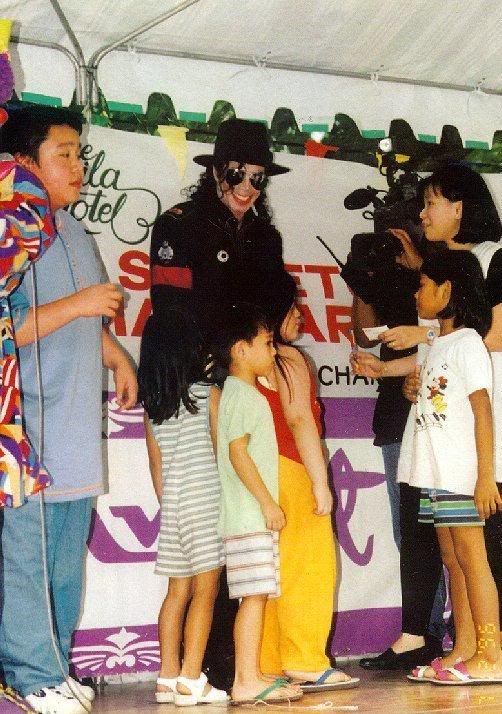 Then he held me beside him and said, "I'll see you at the concert."

As Michael Jackson is laid to rest and returned to pristine condition in the afterlife, these two incredible acts of the King of Pop — volunteering for charity and unselfishly spending time with the less fortunate, will forever be the way I will remember this man.

"I think Michael just simply had a big heart. He sought ways to make people happy. Unknown to many, on his way to the hotel when he arrived, he got off his van a couple of times on the road just to shake hands with street children along Roxas Boulevard."
"According to his bodyguards Wayne and Yannick, he gave them a difficult time because he got off three times and the crowd became too large that he had to content himself by waving from the window," Carino said.
"When he left the Manila Hotel on December 11, my colleague Anette Africano and I immediately ran to the Penthouse Suite where he stayed. We were very curious," shared Carino. "There,we found an empty Poperoo popcorn bucket, about three or four flavors of Haagen- Dazs ice cream inside the frige,and M&M's and Snickers chocolate wrappers on the table.
"No wonder Paul McCartney called him a 'boy man' and it's not surprising that he saw himself as Peter pan. He was such a child," she continued.
"But personally, I will remember Michael Jackson as fun, respectful, generous, and kind-hearted, doing two incredibly touching things for the sake of those orphans when we were together- seeking ways to reach out for charity and giving unselfish time and love to the ones who didn't have anyone to love them.
"This will be the way I will forever mirror this man," Carino ended.
P.S. During his last day at the Manila Hotel, Jackson also left a message on his bathroom mirror.
He wrote," I'll miss you!" using a red lipstick and placed a kiss mark beside the message.
Here is the story in a video:
Some more photos and a video from Philippines:
Source: www.philstar.com/article.aspx?articleid=483815 and michaeljacksoninphilippinesmanila.blogspot.com/2010/04/michael-jackson-here-in-philippines.html

Some fans remember:
I remember this! I was in gradeschool at that time and my school was across Community Hospital. I really wanted to see him because I haven't seen a lot of world-famous people, but we couldn't go out of the school yet as this was during school hours. I was rehearsing for a dance so my friends and I weren't technically in class. We decided to go to the highest spot in school facing the hospital. This was like a storage area on top of the stage. Maybe at least 6 stories high. There was a huge crowd of people, security, and his entourage. There was probably some media but I was too busy looking for him. He was easy to spot because he was sooo light-skinned. But I didn't get to see his face because we were so far. At that moment, I felt like I was taking part of history in the making.
I was there too! I studied in St Andrews and we were already done for the day. We saw him waving out the hospital window. A few minutes later we saw 2 Michael Jacksons. One exited in the main and the other via the side closer to the community library. As the guy from the front rode his van, it stopped momentarily and I had a chance to peak inside. The guy looked like Michael but it want him. Later learned that he had a body double that day and the real one was the one that left through the back entrance.
I was in the crowd across from the church because I was going home from high school. You'd think there was someone there at that time that I could comment on reddit while I was on the other side of the world.
He also had a party for kids at the Manila hotel. A friend was asked to dress up as Santa Claus. MJ seems to have talked to him. Does it look hot in her costume.
I knew I didn't dream this!!!
I was very young back then (born '94) and I could faintly remember my godfather taking me to see him and even hoisting me up on his shoulders just to see MJ wave at the crowd. Thank you for this!(post)