MJ and sport
"I know nothing about sports."
Michael was 19 years old when he and some of his siblings participated in a sport game of musical stars "Rock 'n´ Roll Sports Classic". It was broadcasted on 3rd May 1978. He sprinted 60 yards and swam.
The Jacksons team won first place. Their fee 20 000 dollars was handed over the University in California.
www.youtube.com/watch?v=C16NXJ0AGtM
www.youtube.com/watch?v=leRbGug-9KI
www.youtube.com/watch?v=dwpB-29l7oU
h
Michael visited Lakers.
Magic Johnson toured with The Jacksons on the Triumph tour in 1981 and the Victory Tour in 1984-85. Magic Johnson said MJ promised to come to The Forum to see him play at least once. Magic told MJ's brother Jackie Jackson that Michael wouldn't come, but Jackie said MJ was definitely coming. And sure enough, there he is:
Without Adam Vinateri, the New England Patriots wouldn't have won three Super Bowl titles. Without Tom Brady, Adam Vinatieri wouldn't have been in a position to give the Patriots those titles. Without Bill Belichick, Tom Brady's quarterbacking wouldn't have set-up Adam Vinateri to hit the kicks to win those titles. And without Robert Kraft, Bill Belichick wouldn't have been in New England to help both Brady and Vinateiri win those titles. And without Michael Jackson, Bob Kraft wouldn't have bought the New England Patriots and the dyn@sty that was may never have been.

As Forbes described in a 2005 article, Michael Jackon's 1984 Victory tour was directly responsible for Kraft purchasing Foxboro Stadium in 1988, a transaction that eventually led to him being able to buy the team in 1994.

In 1988 Kraft and a partner put up $25 million to buy the Foxboro stadium from the Sullivan family, besting a $16 million offer from the Pats' owner, Kiam. (Kraft would buy out his 50-50 partner for a small premium five years later.) [Former Patriots owner, and current Foxboro Stadium owner] Charles Sullivan had used the stadium as collateral to fund [Michael Jackson's] Victory Tour back in 1984. Overleveraged, Sullivan went bankrupt and was forced to sell the arena. To this day Kraft's collection of photos and mementos includes a poster from the ill-fated tour.

Basically, Sullivan got in over his head funding Michael Jackson's Victory tour (something that those concert organizers in London can commiserate with now) and was forced to sell the stadium because of the bad investment, a move which furthered Bob Kraft's quest to own his hometown Patriots. (Because Kraft owned the stadium, the team couldn't be sold without his approval. When new owner Victor Kiam wanted to sell to a St. Louis businessman intent on re-selling the team or moving it, Kraft stepped in and bid 50 percent more, buying the Patriots for $172 million in 1994.

It was a transaction that began a run toward three Super Bowls, a perfect regular season and the career of one of the greatest coaches and quarterbacks that the league has ever seen. And to think, it was all set in motion by the guy with the glove moonwalking across the stage. "Wanna' Be Startin' Somethin'" indeed. (Source: www.harlemenglish.com/2009/06/how-michael-jackson-helped-start-the-patriots-dynasty/#more-474) :
Some fencing...
The persona that is created of Michael Jackson is very different when you're in a room with him, when you're talking to him. He's very funny. He actually fights. I was surprised. He's like a blue belt in Tae Kwan Do or something. I'd just done 'Ali,' and I felt that Michael Jackson might be able to hurt me. That dude looks sharp. He's a fast mover. You see how somebody could dance and move that good and do those spins. That takes strength man."
Will Smith in an interview with Teen Hollywood (August 2002)
www.youtube.com/watch?v=9r1tWJZoUMg
Daikaku Chodoin is the founder and president of the United World Karate Association, which combines all five iemoto (the traditional branches of the martial art) with an estimated 50 million practitioners around the world. A kyuudan (9th degree black belt) of Goju-ryu, one of Okinawa's "hard-soft" karate styles, Chodoin is a fearless fighter who thrives on going to battle both on and off the dojo floor. In 1985 Chodoin established the World Black Congress in order to unite Africans and that same year he created the Society of International Outer Space Law to draw up a legal framework that would give all nations equal right to space. Chodoin's desire to heal and save the world struck a chord with Michael Jackson: Since their first meeting in 1997, The King of Pop and the King of karate got along royally. In 1998, Chodoin presented Michael with the Honorary Chairmanship of the United World Karate Association and a godan (fifth degree) black belt:
source www.japantimes.co.jp/text/fl20090709jk.html
Michael Jackson visited London Football Stadium which is a home for Fulham Football Club. His owner was Michael´s friend, Egyptian businessman Mohamed Al Fayed (father of Dodi, who died with princess Diana in 1997):
Michael´s statue is placed there now: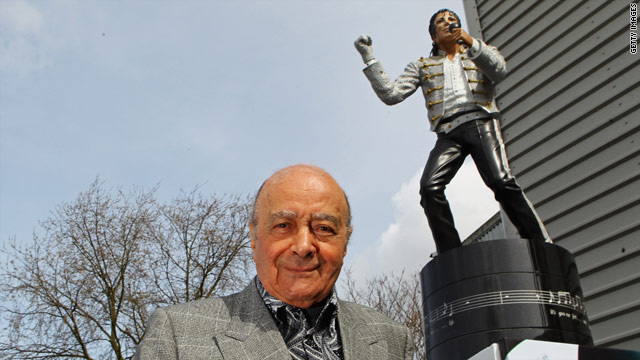 Superbowl XXVVII in Pasadena, California, 1993
Michael Jackson performed durind the halftime show and attracted more viewers than the regular game. His performance at the championship is considered as the best ever.
How Michael Jackson Saved The Super Bowl
Mike Ozanian, Forbes Staff
www.forbes.com/sites/mikeozanian/2013/02/03/how-michael-jackson-saved-the-super-bowl/
It wasn't the competition on the gridiron that turned the Super Bowl into the world's most valuable sporting event brand. It was competition for the game's halftime television audience.
The NFL had been doing something special for the Super Bowl's halftime show since its first contest in 1967. The game plan was working fine as viewership and advertising rates kept increasing. But in 1992 Fox boss Rupert Murdoch spotted a weakness: the Super Bowl's halftime acts weren't hip. Some decent names performed. But not the really big ones. People stopped watching. Especially the young, hip audiences advertisers crave.
Fox, which had not yet become a partner of the NFL, saw a way to score: During the 1992 game, when Gloria Estefan was performing, Fox had its popular show In Living Color do a live Super Bowl spoof, complete with a game clock so viewers could see when the second half of the Super Bowl was going to start and switch back to CBS. The episode of In Living Color was a huge hit. Ratings for the second half of the Super Bowl crashed 10 points.
Makes sense. If you are twentysomething and have had a couple of beers, would you rather see a show produced by Rosie Perez with Keenan and Ivory Wayans and Jim Carrey, or Estefan?
The NFL learned this lesson: Don't skimp on your most-prized asset. Enter Michael Jackson for the Super Bowl's 1993 halftime show on NBC. The biggest act on the planet for the biggest game. The Super Bowl's ratings increased 8.6% over the previous year, and just as important, NBC kept its audience during halftime as well as the game's second half. Last year's halftime show with Madonna generated a higher rating than the game.
MJ had scored the Super Bowl's biggest touchdown and the NFL, which brings us Beyonce today, has never looked back.
2005/11/14 Michael watched Dubai Desert Rally in hotel Le Meridien Mina Seyahi. He was there with his friend, famous driver UAE rally Mohammad Ben Sulay, and with Saeedem Hareb, director of International Marine Club:
MJ´s bodyguard: