Fatherhood
Michael Jackson is a father of 3 children and all of them bear his name:
~ Michael Jackson Jr. (aka Prince)
~ Paris-Michael Katherine Jackson
~ Prince Michael Jackson II (aka Blanket or Bigi)
MJ nicknamed his first son Michael "Prince" because he's like a son of a king, it stuck that way. But "Prince" is also the name of his grandfather. And MJ named his 2nd son (nicknamed Bigi) "Prince" after his grandfather. It's "II" because he's the second in line after MJ's grandfather. It's confusing I know.
"Jr." is if the son is named after the father.
"II." is if the son is named after someone else in the family tree. So you could have an ancestor with a name & then name your child that same name and include "II" in it because they're the second person in the family with that name.
- source of explanation of "Jr." and "II" twitter.com/litenine/status/1246544525776093184?s=20
The day that his first child was born, Michael was filming the video for "Blood On The Dance Floor": "Michael left before we totally finished because Prince was being born. The look in Michael's eyes when he got the warning it was starting to happen...... unforgettable,, damn see you made me start to cry again,...."
Michael Lee Bush, costume designer
"My first time in a maternity ward was not for my child but for Michael's. Michael invited us into to the room to introduce Prince to me and Wayne. We both gave him a hug to congratulate him and all I could remember noticing was the look on Michael's face. The look of absolute pride. I had never seen him looking calm and yet so confident and happy without saying a word. At that moment I think I felt that kinship of manhood, that only comes from becoming a father. A wonderful moment."
Yannick Allain, one of Michael's bodyguards from the 90´s
"Words can't describe how I feel... I have been blessed beyond comprehension and I will work tirelessly at being the best father that I can possibly be. I appreciate that my fans are elated, but I hope that everyone respects the privacy Debbie and I want and need for our son. I grew up in a fish bowl and will not allow that to happen to my child. Please respect our wishes and give my son his privacy."
Michael Jackson´s statement after the birth of his first child
"There is no miracle in life that compares with watching your child come into the world. I love family life....everything about it. I want them to grow up being surrounded by love and by family."
Michael Jackson
"(Fatherhood has changed me) in a huge way. You have to value your time differently, no doubt about it. It´s your responsibility to make sure they´re taken care of and raised properly with good manners. But I refuse to let any of it get in the way of the music or the dance or the performing. I have to play two different roles. I always wanted to have a big family, ever since I was in school. I was always telling my father I would outdo him. He had 10 children. I would love to have like 11 or 12 myself."
"You do the best you can. You don´t isolate them from other children. There will be other kids at the school (on my property). I let them go out into the world. But they can´t always go with me. We get mobbed and attacked. When we were in Africa, Prince saw a mob attack in a huge shopping mall. People broke so much stuff, running and screaming. My biggest fear is that fans will hurt themselves and they do. I´ve seen glass break, blood, ambulances."
"(...) I try to make sure they (my children) are respectful and honorable and kind to everybody."
Michael Jackson in "USA Today" magazine interview, December 13, 2001
"When I became a father, my whole sense of God and the Sabbath was redefined. When I look into the eyes of my son, Prince, and daughter, Paris, I see miracles and I see beauty. Every single day becomes the Sabbath. Having children allows me to enter this magical and holy world every moment of every day. I see God through my children. I speak to God through my children. I am humbled for the blessings He has given me."
Michael Jackson in his reflection "My Childhood, My Sabbath, My Freedom"
"But now I am a father myself, and one day I was thinking about my own children, Prince and Paris and how I wanted them to think of me when they grow up. To be sure, I would like them to remember how I always wanted them with me wherever I went, how I always tried to put them before everything else. But there are also challenges in their lives. Because my kids are stalked by paparazzi, they can't always go to a park or a movie with me. So what if they grow older and resent me, and how my choices impacted their youth? "Why weren't we given an average childhood like all the other kids", they might ask?
And at that moment I pray that my children will give me the benefit of the doubt. That they will say to themselves: "Our daddy did the best he could, given the unique circumstances that he faced. He may not have been perfect, but he was a warm and decent man, who tried to give us all the love in the world."
I hope that they will always focus on the positive things, on the sacrifices I willingly made for them, and not criticize the things they had to give up, or the errors I've made, and will certainly continue to make, in raising them. For we have all been someone's child, and we know that despite the very best of plans and efforts, mistakes will always occur. That's just being human."
Michael Jackson in Oxford speech, March 6th 2001
"I love and adore my children. They mean everything to me.
When they're in public though, I conceal their faces, cause I want my children protected. At home, they have a normal life, they play with other kids and they have a good time, they're laughing a lot. They run around, they even go to school. It's a normal life for them. But in public, I must protect them. I love my children very much, and I'm proud to be their dad."
Michael Jackson, Private Home Movies TV Special, 2003
Michael and two of his children in public, wearing masks as a protection from crowds and their cameras:
"I don't want people seeing them. 'Cause the press are - they can be very mean. I don't want them to grow up psychologically crazy 'cause of the evil things they can say to them. I want them to be normal. That makes sense, doesn't it? Right?..."
Michael Jackson in "Take Two: The Footafe You Were Never Meant To See" (2002)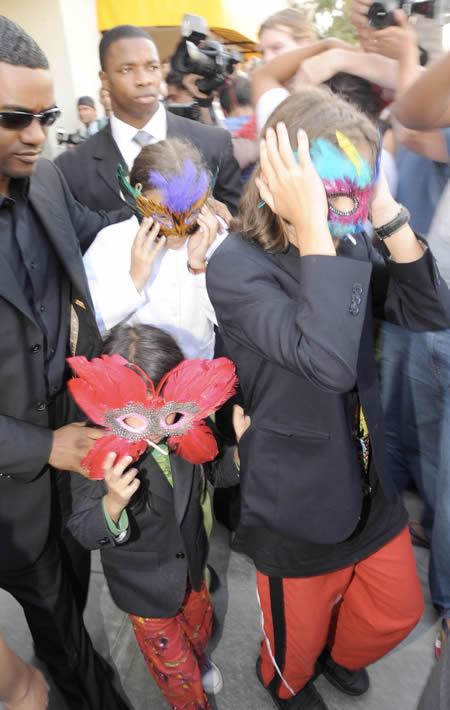 "(...) Well, I enjoy taking care of my children myself. It's fun. It's why I had them. So I could take care of them. It's great relief for me. It's pleasure. It keeps me happy and laughing. They're wonderful, sweet, innocent children.
(...)
They (my children) mean... It's hard to put in words, because they mean everything. The way you would explain how your children make you feel... They're the world for me. I wake up and I'm ready for the day because of them. I get them breakfast, I change diapers, if they want to read, we do a lot of reading, we play hide and seek, we play blind fold, and I have a wonderful time with them.
(...)
I do my best. Sure. I want to be the best father in the world, of course."
Michael Jackson, in TV interview with Geraldo Rivera, February 7th 2005
"He was an absolutely fabulous father. I never met a parent that is as good or better than Michael. Those kids were and absolute deligt! I´ve never met kids in my life that were like those kids. I spent a lot of extended time around them. I never heard them cry, I never heard them beg for anything, never saw or heard them throw a fit..."
David Nordahl, artist and friend of Michael
"He was a great father. People don´t realize much of the time he didn´t even have a nanny. He was a single father. He´d make them breakfast, talk to them, take them out to see shows, let them watch work. Then he´d call a tutor over and they would study while he recorded."
Recording engineer Michael Prince recalls their work together in 2006
"(...) It was amazing for me to witness in those early years how enamored Michael was with his children. He changed their diapers through the night, sang and played with them, rocked them to sleep, bathed them and had to change his own outfits when they threw up on him – the same routine that all parents know and love. In the few times we spoke, he would always reflect on the miracle of being a parent. He also protected them in a way that reflected his own lost childhood, and his paranoia about being taken advantage of. Paris, Prince and Blanket are three beautiful children. With Michael gone, I truly pray that they will find some peace and be spared the heart wrenching pain that their father faced time and time again in his life.
Mallika Chopra, in "Reflections on Growing up with Michael Jackson" (29 June 2009)
"(Parenthood) reminds you to do what the Bible has always taught us. When the apostles were arguing among themselves over who was the greatest in Jesus' eyes, he said, "None of you", and called over a little boy and said, "Until you humble yourself like this child." It reminds you to be kind and humble and to see things through the eyes of children with a childlike wonderment. I still have that. I'm still fascinated by the clouds and the sunset. I was making wishes on the rainbow yesterday. I saw the meteor shower. I made a wish every time I saw a shooting star."
Michael Jackson, USA Today Magazine, 2001
"I thought I was prepared to be a father, but I wasn't. All my life I've read about how wonderful children are. People would go, "What is up with you and babies?" I am always reading child psychology books. But it's so much more joyous than even that. Prince and Paris changed me in so many ways. I learn as much from them as they learn from me. You learn about having a good heart and being a good-spirited person. And the way I am, I try to imitate them. People always say, "Act your age." But I try and act more like children because they are the innocent, they are God-like, they are pure. I try to be as humble and sweet as they are."
Michael Jackson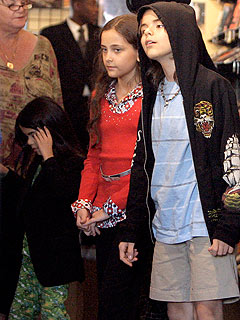 "They love music…they are very much into the arts. But I don't push them. I am letting them enjoy their childhood as much as possible. I really do. I let them go to the arcade and get out and go to the movies and do things. I think that comes naturally. You know, I want them to get to do the kind of things I didn't get to do. So I fill them with a lot of enjoyment that way – a lot of amusement. You know? I get pretty emotional when I see them having a wonderful time; when they are on a ride and they are screaming and they are happy and they are running. It makes me emotional, cause I see they are having a real good time."
Michael Jackson, Good Morning America Radio interview, 2008

"People criticized Mr. Jackson for the masks the children wore. They called him weirdo, crazy and odd. Obviously, they misunderstood him. Mr. Jackson didn't want them to find out what the children looked like. The masks acted as a protection so they can freely move in public when he was not with them.

There were times when Mr. Jackson couldn't come with us. True enough, those coverings really helped. We went to museums, libraries, and parks without being attacked and harassed by the media. Our little angels were able to walk freely in the streets and interact with other kids.
They criticized Mr. Jackson when he was still alive and even now that he is no longer with us. The hatred never stops. The bullying and derogatory remarks are still happening. The funny part, those who have not even met him have the most to say!
"Just like our jury foreman, I went into this trial about as neutral as one couldbe towards Michael Jackson. I was 7 when Thriller came out so I grew up with his music and loved it, but I knew very little about his life other than what I'd seen in the media, and I honestly had no strong feelings about him as a person either way. I walk out of this trial completely understanding why he has so many fans who practically deify him. Who are so strongly attracted to his kind spirit, huge heart, gentle nature, love of his children and mother. I totally get it now."
Aileen Medala, children´s teacher (4) The King of Pop and I – Příspěvky | Facebook

"Every single witness who was questioned about whether they thought MJ was a good father (and almost every one who knew him closely was asked) sang endless praises about his love of his kids. If Prince's testimony is any indication, MJ was definitely a great father. The kid is bright, intelligent, caring, has great character and a great personality, and I truly believe MJ did a phenomenal job raising him in the few years he was able to. Honestly, every single juror came away feeling very positive about Michael Jackson as a person and father.

I know there was concern about MJ's image being hurt because of this trial, and maybe to outside viewers, it was because of some of the details that came out. But for us in the jury in that courtroom for all these months, we just grew more and more fond of him during the course of the trial."
A juror in the Katherine Jackson vs AEG trial in 2013 (https://www.mjjcommunity.com/forum/threads/130590-Verdict-Reached-AEG-NOT-Liable-Discussion-Katherine-Jackson-vs-AEG/page66?p=3914073&viewfull=1#post3914073)
"I never saw a more doting father in my life," Mesereau told me. "Absolutely loved his kids, and they loved him. You really watched him with his kids and you didn't see a selfish narcissist or a celebrity. You saw a very caring, giving father who wanted to be simple and quiet and teach his children about the world."
www.google.com/url?sa=t&rct=j&q=&esrc=s&source=web&cd=1&cad=rja&uact=8&ved=2ahUKEwiMtue449DkAhXGfMAKHXtFARkQFjAAegQIABAB&url=https%3A%2F%2Fwww.mylifetime.com%2Fmovies%2Fmichael-jackson-searching-for-neverland%2Farticles%2Fthe-untold-story-of-michael-jacksons-devotion-to-his-children&usg=AOvVaw3aDqeAYFHo6WgoKQqaOQwt
Letter from Gregory Peck:

January 4, 2003

Dear Michael,

You are recognized as a great artist all over the world, but very few know you as a father. We have been close friends and have known you over twenty-five years. We have spent many times together with you, Prince, Paris and Prince Michael, who all played happily with our own grandchildren. We, and our children, who are of your generation, have always admired you as a loving and caring father. Your children could not have had a better father. They love and respect you. You raised them with gentleness, kindness and genuine concern for their well-being. Their joy and love are a reflection of your attention and love as a parent. Those who criticize and judge you should do well to look into their own family life. We have seen you countless times as an attentive and devoted father and we join your many friends who stand beside you and your family now.

With love,
Veronique and Greg
"So ... I see a head with dark hair up to his shoulders, let's say ... very familiar ... with three little heads by his side, and then I realized what was happening. Michael and his entourage were a meter from me, so peaceful and very natural with his children ... and from there, the two most incredible hours of my life began, two hours in which I never stopped looking at Michael, my Michael ...
I saw him smile, move his hair, rub his eyes, applaud all happy and excited, sometimes, raising his arms and everything ... what a luxury to be able to see him like this, following the rhythm with his head, pointing to some details on stage, so that their children would not miss anything ... that was the best:
Seeing Michael interacting with his children is priceless ... How sweet, by God !!! What a wealth of children ... they loved him !!! In the first half of the play, Michael sat between Paris and Blanket, in one of the saddest moments when slow music was playing.
Blanket leaned on his father's shoulder and Michael quickly put his arm around him and hugged him ... the child snuggled close to him. The truth is that every time Mike was so aware of the three, talking, teaching things, very, very affectionate.
In the second half, Paris sat on his lap and was like this almost all the time: On his father's knees !! All the time hugging and resting his head on his shoulder ... I loved it when Michael was saying something and his daughter was watching intently, and Michael was stroking her head, holding her face with his hands.
There was a moment when the three children were hugging him: Paris on his lap, Prince and Blanket nestled like chicks, one on each side, while Michael hugged them ... the three of them like that, watching Mary Poppins . ''
The testimony of a Spanish fan who was sitting two rows behind Michael Jackson and his children, to watch the play ' Mary Poppins' at the Prince Edward Theater in London, 2006
"You know, Michael was a Jehovah´s Witness and as such, they never celevrated birthdays or any kind of holidays. And Michael stopped being Jehovah´s Witness and disassociated himself with that in the late eighties, but he still kind of had some of those things engrained in him.
And so he had his kids now and I had a chat with him about birthdays and particularly about Christmas and how it was coming and he was going to be in New York. I asked him: ´Are you going to do Christmas?´, and he said: ´No.´ And I said? ´Michael, you´ve got kids now.´
And a couple of months later he was staying in the city and it was Christmas and he invited my wife and I to come up and stay at the hotel and come up to the room for dinner. So we got up to his suite for dinner and knock on the door and you´d have thought it was a set from a Christmas movie. The tree, the train, the puppies. The kids running around. It was unbelievable. It was right out of a movie.
So I saw him with the kids. He was a great father - if anything, a little too strict. You know, it was please and thank you and the kids had to look good but he cared and too that job extremely seriously."
Neil Ratner
"Mike and I met a couple of years ago through a friend. We recorded at his home studio, and his kids were always there. He was always monitoring them – making sure they were doing their homework, eating right. He would personally cook for them, always healthy stuff. They were the main focus of his life – we could be in the middle of recording, and he'd drop everything to make sure they were good".
Akon
You Are My Life
"It was amazing for me to witness in those early years how enamored Michael was with his children. He changed their diapers through the night, sang and played with them, rocked them to sleep, bathed them and had to change his own outfits when they threw up on him – the same routine that all parents know and love. In the few times we spoke, he would always reflect on the miracle of being a parent. He also protected them in a way that reflected his own lost childhood, and his paranoia about being taken advantage of. Paris, Prince and Blanket are three beautiful children. With Michael gone, I truly pray that they will find some peace and be spared the heart wrenching pain that their father faced time and time again in his life."
Mallika Chopra, daughter of Deepak Chopra, in "Reflections on Growing up with Michael Jackson" (29 June 2009)
Paris and Prince Jackson team up together for Motown's 60th anniversary celebration. Watch as Paris and Prince recall stories from their childhood and talk about their father's admiration for the iconic record label.